Savannah, Georgia, is a city that dances to the rhythm of its rich history, captivating culture, and exquisite charm. With its cobblestone streets, Spanish moss-draped oaks, and well-preserved historic buildings, Savannah has a unique allure that beckons travelers from all corners of the globe. In this travel guide, we invite you to embark on a journey through this enchanting city, exploring its museums, historic sites, vibrant parks, and delightful culinary experiences. Let's dive into the many things to do in Savannah, GA.
Top Places To Visit In Savannah, GA
Savannah African Art Museum
The Savannah African Art Museum is a cultural treasure that celebrates the diverse artistry and traditions of Africa. Housed in a beautifully restored historic railway station, the museum is a testament to the city's commitment to promoting multiculturalism and understanding.
Visitors to the museum can explore a vast collection of African art, including sculptures, textiles, masks, and artifacts, which provide insight into the rich and varied cultures of the African continent. The exhibits are thoughtfully curated, offering a profound educational experience for art enthusiasts and history buffs alike. The Savannah African Art Museum not only showcases the artistic achievements of Africa but also serves as a space for cultural exchange and community engagement.
Savannah History Museum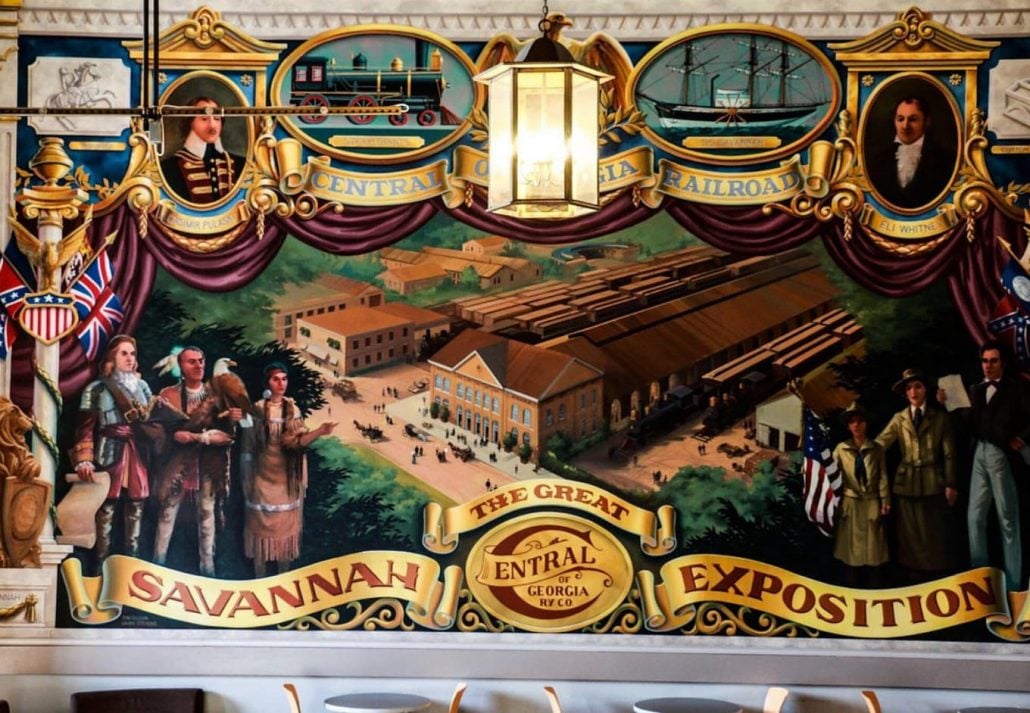 The Savannah History Museum is a captivating treasure trove of history, nestled in the heart of the charming city of Savannah, Georgia. Housed within the historic Central of Georgia Railway train shed, this museum offers visitors an immersive journey through the city's rich and storied past.
The museum's exhibits are carefully curated to depict the history and culture of Savannah, from its early colonial days to the modern era. It showcases a diverse collection of artifacts, including military memorabilia, interactive displays, and historic vehicles, which bring the past to life.
First African Baptist Church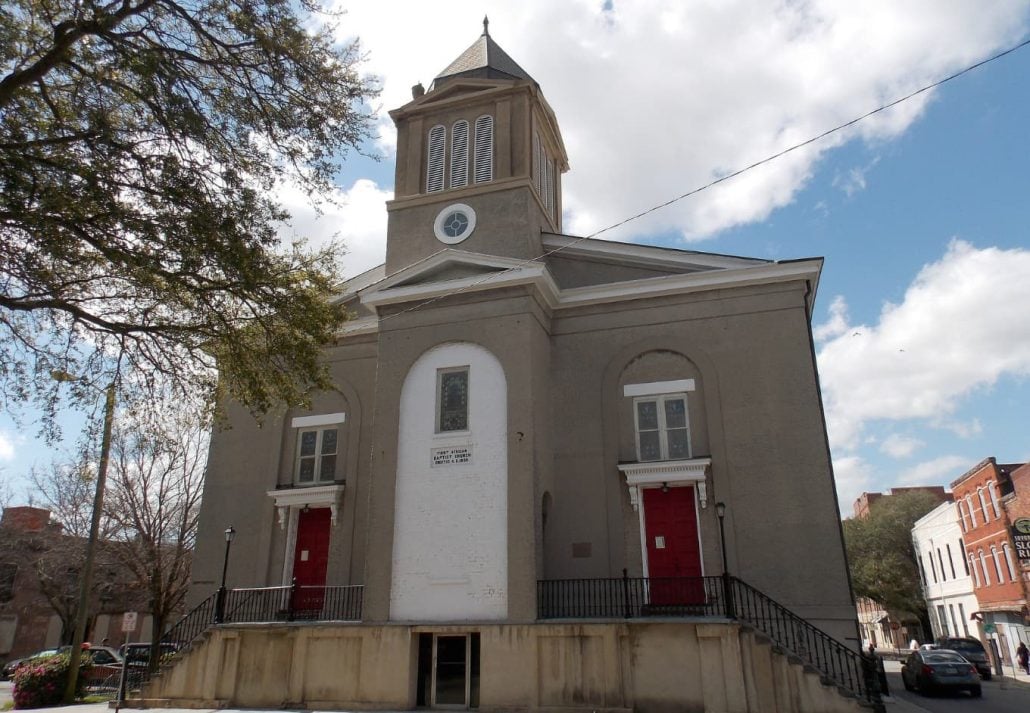 Savannah's First African Baptist Church stands as a historic and spiritual landmark in the heart of Savannah, Georgia. Founded in 1773, it is recognized as one of the oldest African-American Baptist congregations in the United States and a symbol of resilience and faith.
The church building itself is an architectural marvel, displaying an elegant mix of Greek and Gothic Revival styles. But beyond its impressive facade, the church holds an even more remarkable history. It was a pivotal site in the Underground Railroad, helping enslaved individuals find freedom and safety on their arduous journeys.
Owens-Thomas House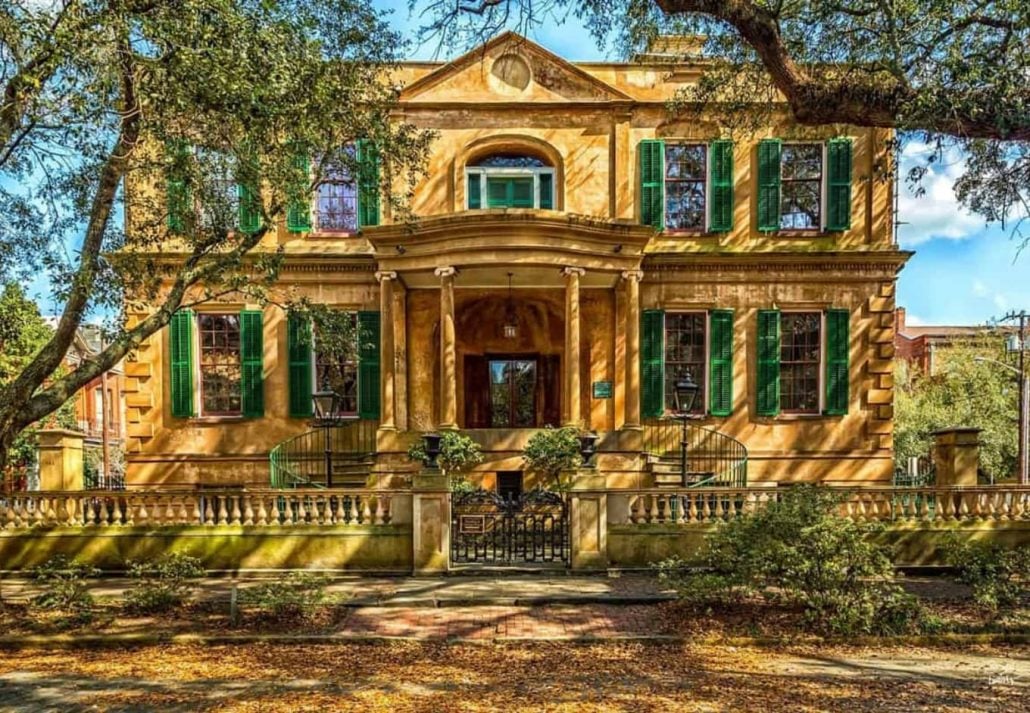 The Owens-Thomas House is a historic gem nestled in the heart of Savannah, Georgia. This elegant and well-preserved Regency-style mansion stands as a testament to the city's rich history and architectural splendor.
Built in 1819-1820, the Owens-Thomas House is a masterpiece of architectural design. It boasts a stunning exterior with graceful columns and a charming garden. The interior is equally impressive, featuring period-appropriate furnishings and exquisite details that transport visitors back in time.
What sets this house apart is not just its architectural grandeur, but its historical significance. It was once the residence of Richard Richardson and his family, and later, the home of George Welshman Owens, a prominent attorney. The house also has an interesting connection to the story of enslaved people in Savannah, as it includes original slave quarters.
Forsyth Park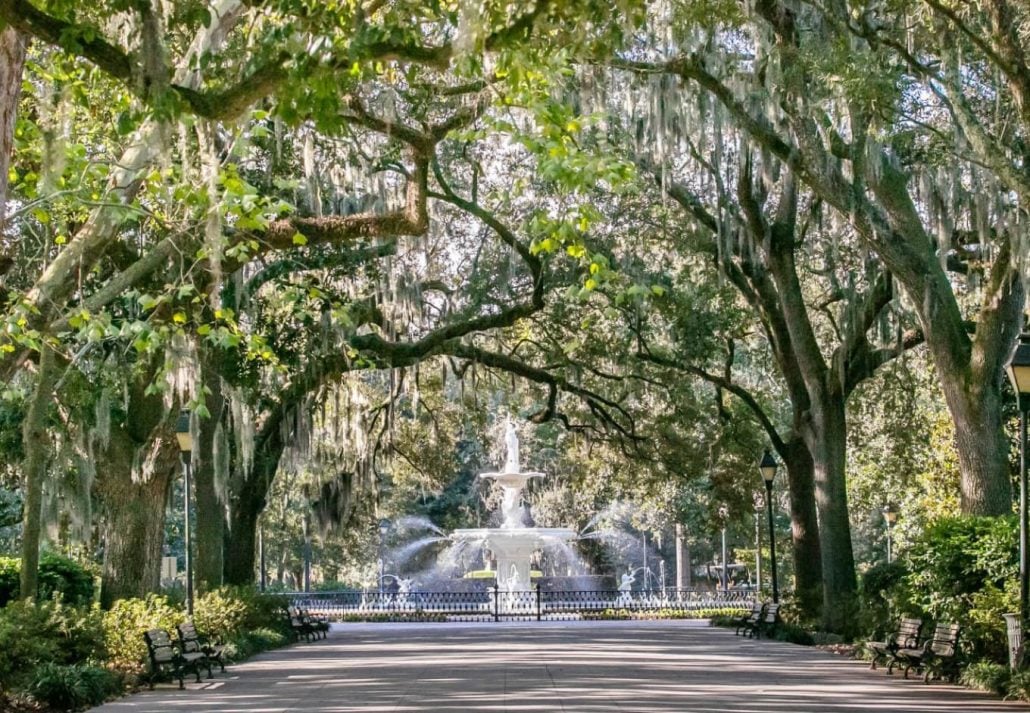 Forsyth Park is a true jewel in Savannah's crown. The park's iconic Forsyth Fountain, surrounded by vibrant gardens and tree-lined pathways, creates a picture-perfect setting. This 30-acre park is a beloved and iconic symbol of the city, offering a serene retreat from the bustling streets and a space for various recreational and cultural activities.
One of the most recognizable features of Forsyth Park is its magnificent Forsyth Fountain, an ornate, cast-iron masterpiece that graces the north end of the park. The fountain's white backdrop and cascading water create a striking contrast with the surrounding greenery, making it a popular spot for photographs and leisurely strolls.
Cathedral Basilica Of St John The Baptist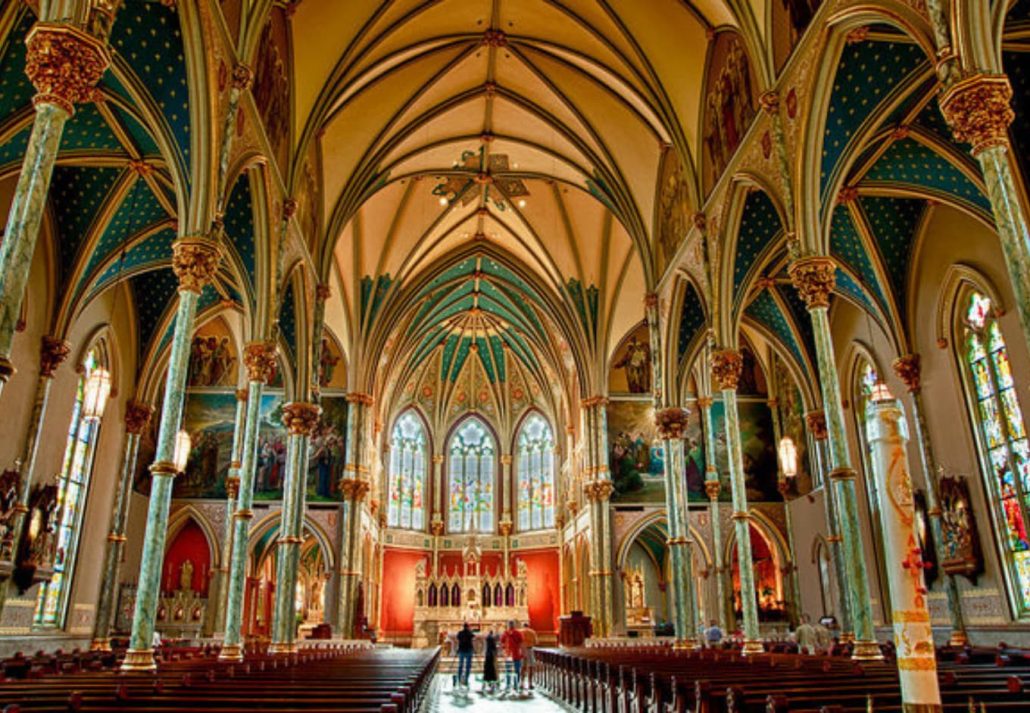 The Cathedral Basilica of St. John the Baptist is a magnificent architectural gem nestled in the heart of historic Savannah, Georgia. This awe-inspiring structure is a testament to the city's rich history and its enduring commitment to faith and is one of Savannah's must-visit places.
The cathedral, often referred to as the "Sistine of the South" due to its stunning interior, features intricate stained glass windows, ornate altars, and breathtaking frescoes that adorn the ceilings. Visitors are not only welcomed to admire the incredible art and architecture but also to partake in the spiritual experience that this cathedral offers.
The cathedral stands as a beacon of Catholic heritage in the Southeastern United States and plays a pivotal role in the religious life of Savannah's community. Its grandeur and grace make it a must-visit attraction for history enthusiasts, architecture aficionados, and those seeking a moment of reflection and peace in this charming Southern city.
Savannah's Historic District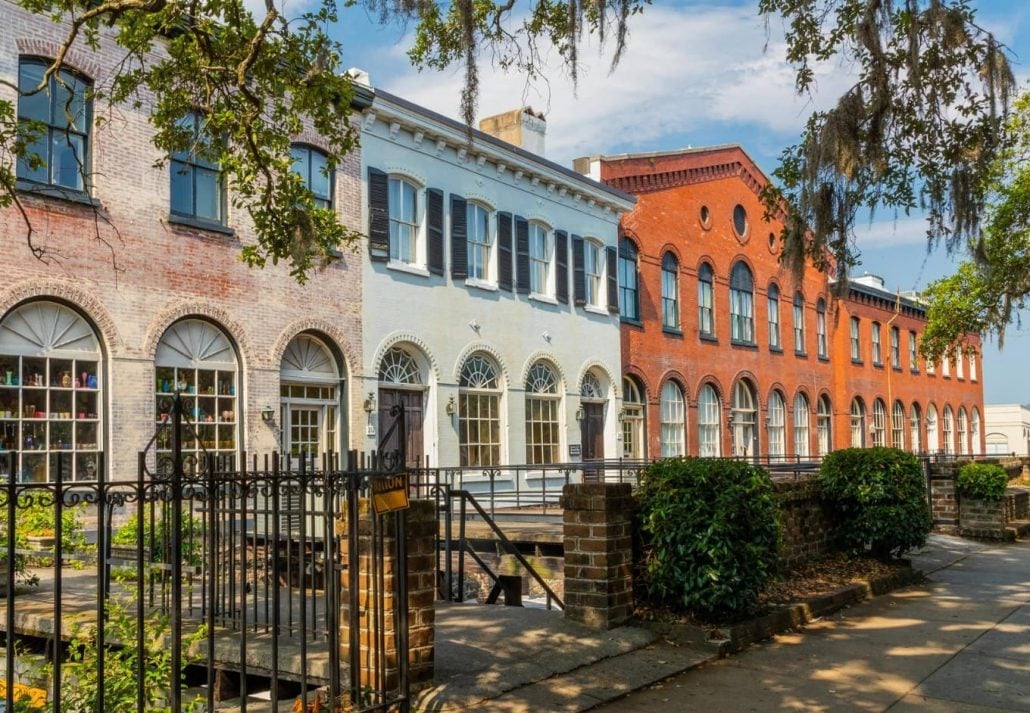 Savannah's Historic District is a captivating journey back in time, where cobblestone streets, charming squares, and beautifully preserved 18th and 19th-century architecture tell the story of this coastal city's rich past.
This enchanting district, one of the largest historic landmarks in the United States, is a testament to Savannah's commitment to preserving its unique heritage. It features picturesque squares, each with its distinct character and history, providing delightful places for strolls and moments of reflection.
Strolling through the Historic District, you'll encounter historic homes with iconic wrought-iron verandas, vibrant gardens, and museums that showcase the city's past, including the birthplace of Juliette Gordon Low, the founder of the Girl Scouts of the USA, which is a must-visit historic site in Savannah.
River Street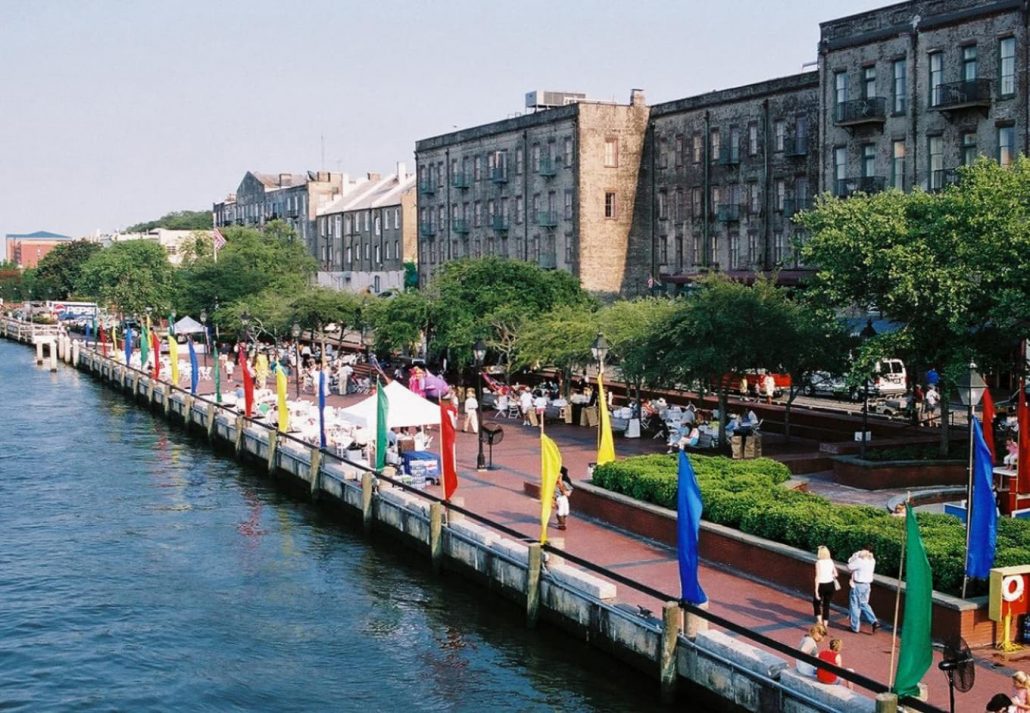 Savannah's River Street is a bustling, historic waterfront promenade that runs alongside the Savannah River, offering visitors a taste of the city's maritime heritage, vibrant culture, and captivating scenery. This iconic street is a must-visit destination for anyone exploring the charming city of Savannah. One of the best things to do in Savannah is to take a walk on River Street.
Lined with a charming mix of shops, boutiques, galleries, restaurants, and pubs, River Street is a hub of activity. You can take a leisurely stroll along the cobblestone streets, stopping to admire the stunning river views and historic buildings. Explore the eclectic range of stores offering everything from souvenirs and antiques to artwork and artisanal goods.
River Street is not just about shopping and dining; it's also a place for festivities and events. The street hosts various annual celebrations, festivals, and concerts, including the famous Savannah St. Patrick's Day Parade.
Tybee Island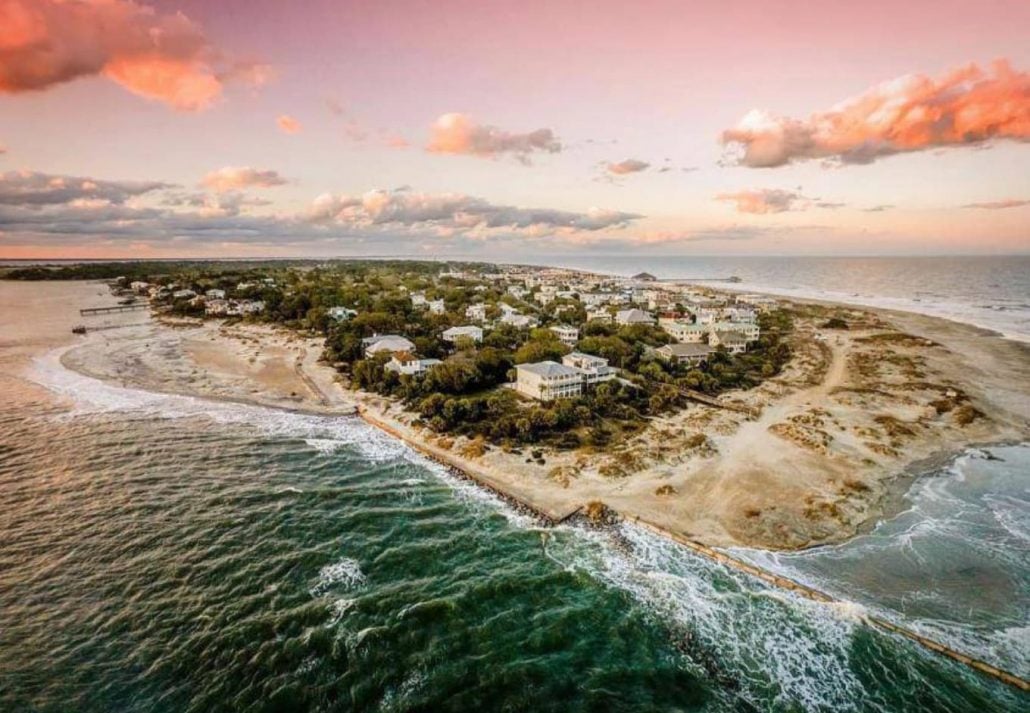 A charming barrier island that provides a classic coastal getaway, Tybee Island is only a short distance from Savannah. Tybee Island, often known as "Savannah's Beach," is a well-liked vacation spot for both locals and visitors due to its immaculate beaches, lovely environment, and wide range of recreational activities.
Wide, sandy beaches that are ideal for swimming, water sports, and sunbathing are abundant on the island. North Beach provides a more serene and natural atmosphere, while South Beach is well-known for its renowned pier and pavilion.
The island's varied habitats, which include salt marshes and tidal streams, will appeal to nature enthusiasts. The island's relaxed atmosphere and stunning surroundings make it the perfect place to go kayaking, birding, and exploring the rivers.
Take A Ghost Tour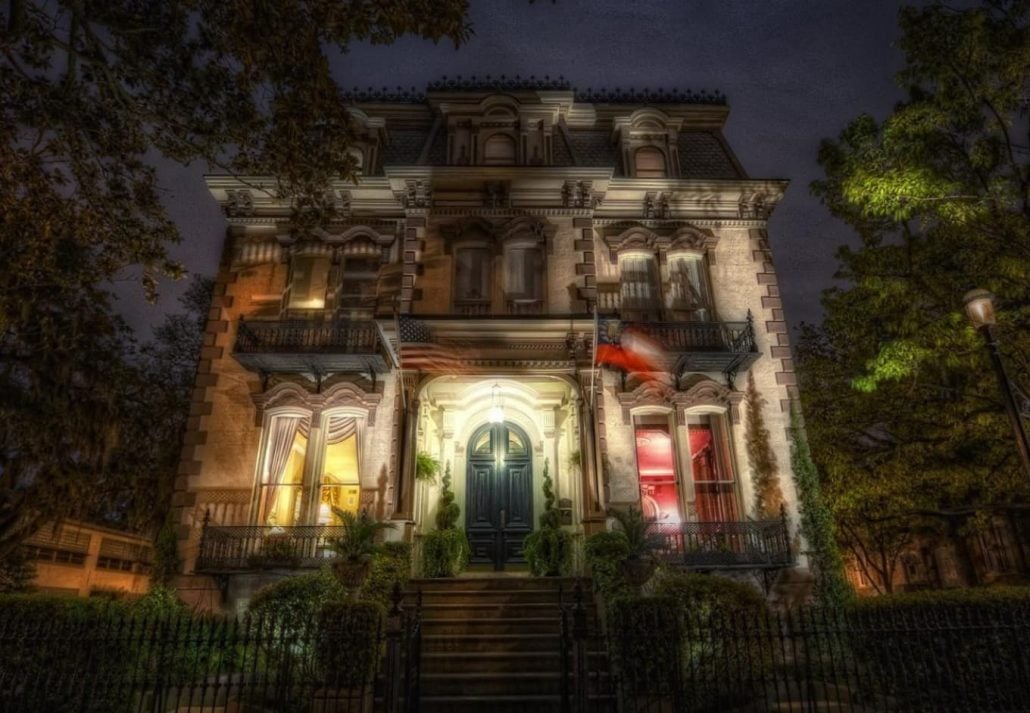 This charming Southern city, known for its cobblestone streets and historic architecture, is also famous for its supernatural tales and ghostly encounters.
Guided by knowledgeable storytellers, these tours take you on a journey through Savannah's most haunted spots, sharing eerie legends and ghost stories that have been passed down through the generations. As you walk through the city's historic streets, you'll discover the darker, more mysterious side of Savannah's past.
One popular destination on these tours is the Mercer-Williams House, known for its connection to the famous Midnight in the Garden of Good and Evil book. Other stops might include the Sorrel-Weed House, Colonial Park Cemetery, and the Kehoe House, all with their own chilling tales to tell.
Old Town Trolley Tour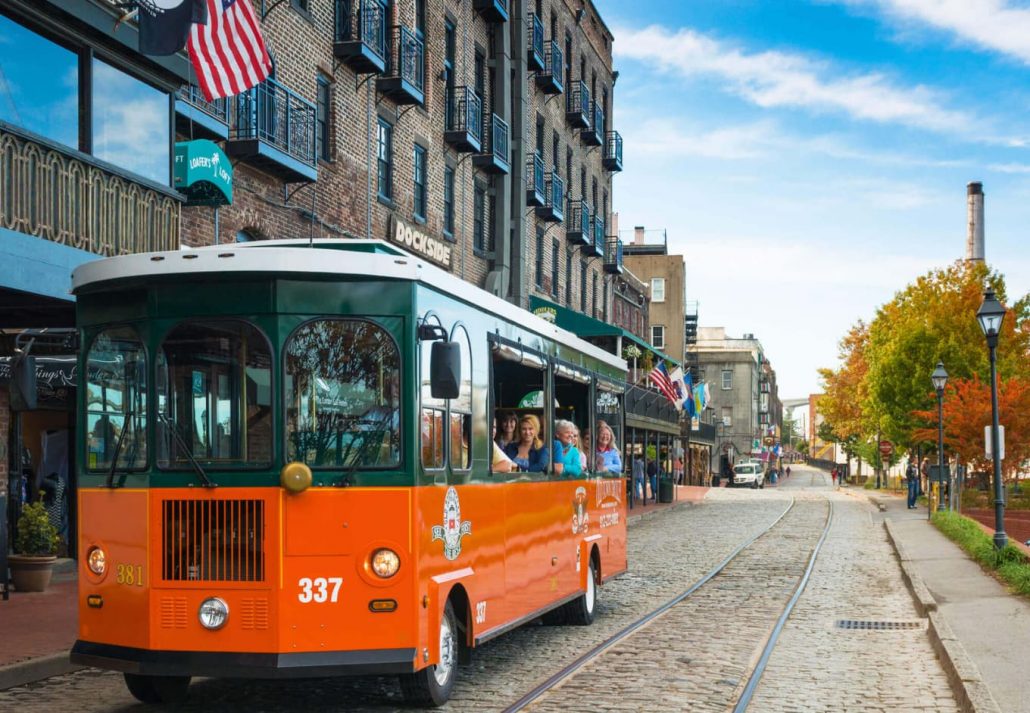 The unmistakable orange and green trolleys are a common sight in Savannah, and they frequently stop at some of the city's most well-known landmarks. You'll set off on a voyage through the city's colorful past with skilled guides at the helm. You'll learn intriguing stories about Savannah's past, and present, and individuals who helped to form the city.
The hop-on, hop-off element of the Old Town Trolley Tours, which lets you explore at your own leisure, is one of its main benefits. If Forsyth Park, the Cathedral of St. John the Baptist, or one of the ancient squares catches your interest, you can get off at any of the approved stations and explore further.
Jepson Center For The Arts
A cultural treasure in Savannah is Jepson's Centre for the Arts. It contributes significantly to the region's support of the arts and creativity as one of the Telfair Museums. The center bears Robert S. Jepson's name in honor of the well-known Savannah businessman and philanthropist whose generosity allowed it to be founded.
The architecture of this modern arts center is in sharp contrast to Savannah's historic surroundings. Its sleek, contemporary style adds a compelling element to the cityscape. Its interior is home to a varied collection of artwork with an emphasis on both traditional and modern pieces. The exhibitions available to visitors range from photography and multimedia installations to sculptures and paintings.
Jepson's Centre is an environment for learning and creative development in addition to merely viewing art. Family vacationers and art fans will find the center to be an interesting visit because it offers educational programs, seminars, and events for all ages. It is a center for cultural enrichment, and everything it provides shows how committed it is to cultivating a better appreciation for the arts.
Jepson's Centre for the Arts is a must-see attraction in Savannah because of its eye-catching architecture, varied art collections, dedication to education, and devotion to community participation. It's a monument to the ongoing spirit of invention and ingenuity in this delightful Southern city and it brilliantly compliments the city's rich cultural past.
Get Leopold's Ice Cream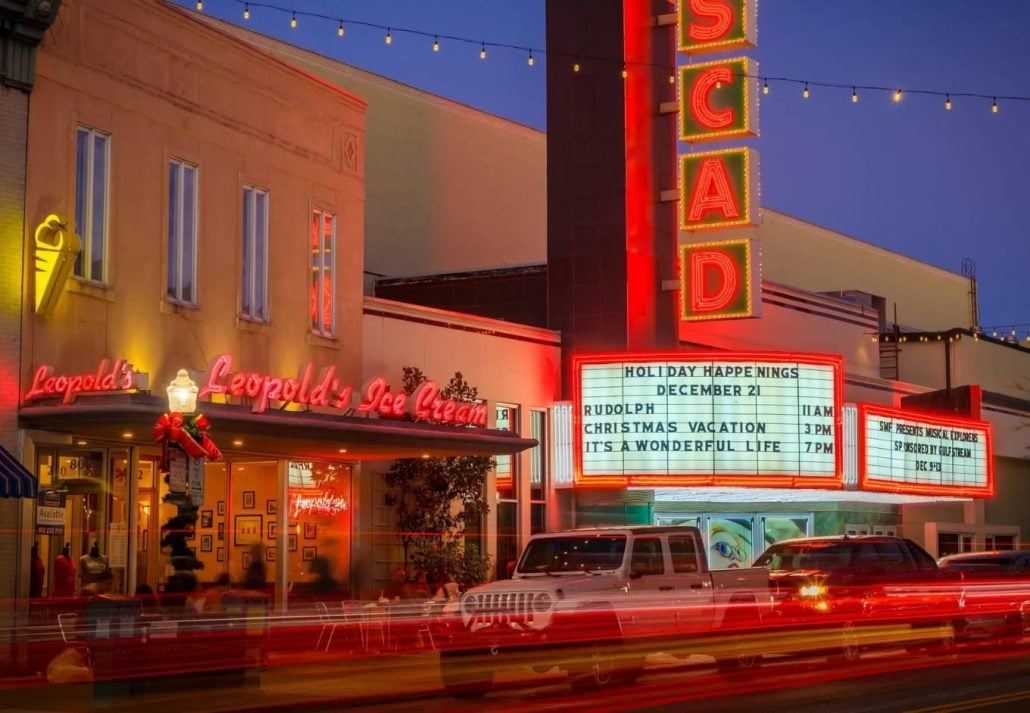 A renowned and enduring business in Savannah, Leopold's Ice Cream has thrilled generations of tourists and residents alike. This vintage ice cream shop was established in 1919 by Greek immigrant brothers George and Peter Leopold and has been providing sweets in a nostalgic, vintage atmosphere ever since.
Leopold's is like going back in time when you enter. The antique soda fountain boasts a timeless beauty with its marble countertops, Tiffany-style lighting, and retro furnishings. In this location, the atmosphere is equally as lovely as the ice cream.
Leopold's makes its own ice cream from scratch utilizing original, century-old recipes. They feature a delectable selection of flavors, sundaes, and floats on their menu, making it a sanctuary for ice cream lovers. The sundaes are a particular delight, topped with homemade sauces, whipped cream, and a maraschino cherry.
Explore Downtown Savannah, Georgia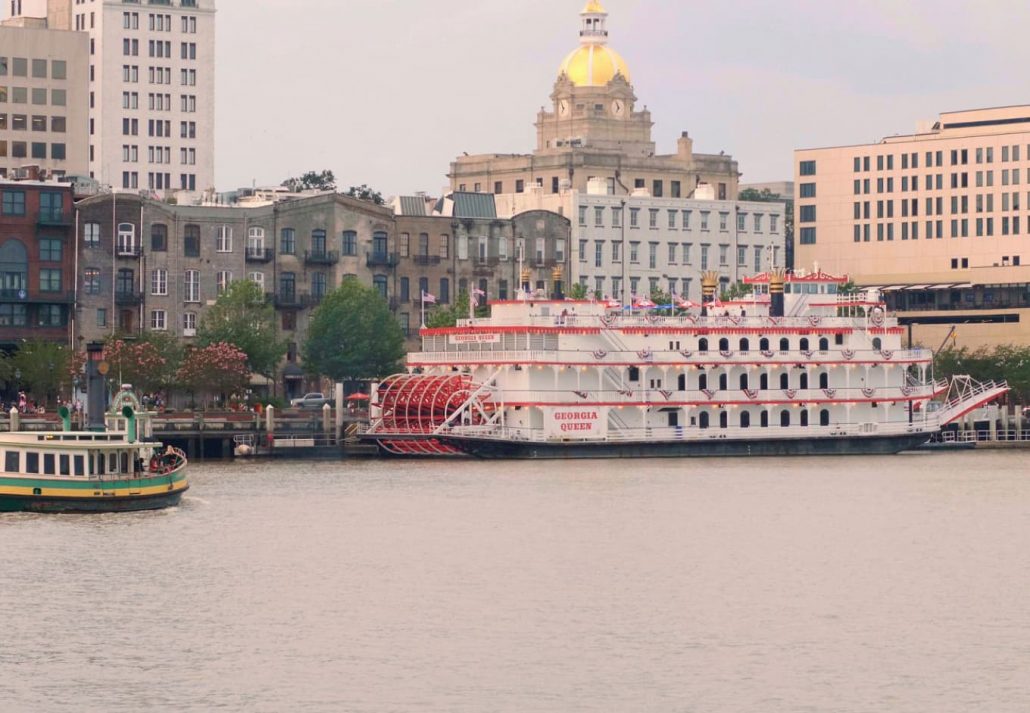 Savannah's downtown area is a treasure trove of boutiques, art galleries, and cozy cafes. Take your time to explore the charming streets, shop for souvenirs, and savor the local cuisine. With its welcoming atmosphere and friendly locals, you'll feel right at home.
The 22 gorgeous squares that make up downtown Savannah, each with its unique personality and background, are among its most recognizable characteristics. Old oak trees covered in Spanish moss surround these squares, providing a peaceful and scenic environment for strolls and outdoor events.
The historic neighborhood is a veritable architectural wonderland, with well-maintained structures showcasing a range of architectural eras, including Gothic, Colonial, Georgian, and Federal. Historic mansions, churches, and museums may be found in the region, all of which provide a window into the city's colorful history.
With galleries, theatres, and performance venues that suit a variety of tastes, downtown Savannah is a cultural and creative sanctuary. The city's culinary scene is equally impressive, offering a diverse array of restaurants, from fine dining to cozy cafes, serving up the flavors of the South.
FAQ
How do I spend a day in Savannah GA?
Walk around Forsyth Park, get brunch at Collins Square, and walk along River Street. You should also visit as many of the following places in Savannah GA as you can:
Leopold's Ice Cream
Jepson's Center For The Arts
Tybee Island
Forsyth Park
River Street
Savannah History Museum
What is Savannah famous for?
Savannah is famous for its St Patrick's Day Parade, being the birthplace of the founder of the Girl Scouts, its Revolution And Civil War historic sites, the Savannah River, and haunted places.
Is 2 days enough in Savannah?
Two to three days is the perfect amount of time to explore Savannah.
How far is Tybee Island from historic Savannah?
Tybee Island is about 20 miles away from Savannah.
Can you walk around downtown Savannah?
Savannah is most definitely a very walkable city.
Browse. Book. Stay.
CuddlyNest provides all accommodations to all travelers at the best price. Find unlimited travel inspiration on our blogs and social media channels Facebook, Instagram, and Pinterest.
You May Also Like:
The 10 Best Things To Do In Atlanta
7 Amazing Hotels in Miami, Florida
The 5 Best Hotels In Atlanta
The 5 Best Miami Resorts
The Ultimate Guide To The Miami Design District
The 5 Best Downtown Miami Hotels
Best Dog-Friendly Vacations In The United States