If you're seeking the perfect blend of holiday charm and breathtaking nature, look no further than Gatlinburg, Tennessee.
We're about to unwrap a winter wonderland of festive delights that will make your holiday season sparkle. Have a look at the best places to visit in Gatlinburg for Christmas — your most memorable holiday season starts here!
Find Places To Stay In Gatlinburg
The Best Places To Visit In Gatlinburg For Christmas
Fantasy of Lights Christmas Parade
Join the 48th Annual Fantasy of Lights Christmas Parade on Friday, December 1, 2023.
This award-winning parade captures the spirit of Christmas in a truly spectacular way. With countless twinkling Christmas lights and decorations, the floats create a fascinating visual display.
Of course, a Gatlinburg Christmas parade wouldn't be complete without Santa Claus. He usually arrives at the end of the parade.
Come here to enjoy hot cocoa, Christmas carolers, twinkling lights, holiday cheer, and lots of other festivities!
Recommended Read The 7 Best Things To Do In Nashville
Dollywood's Smoky Mountain Christmas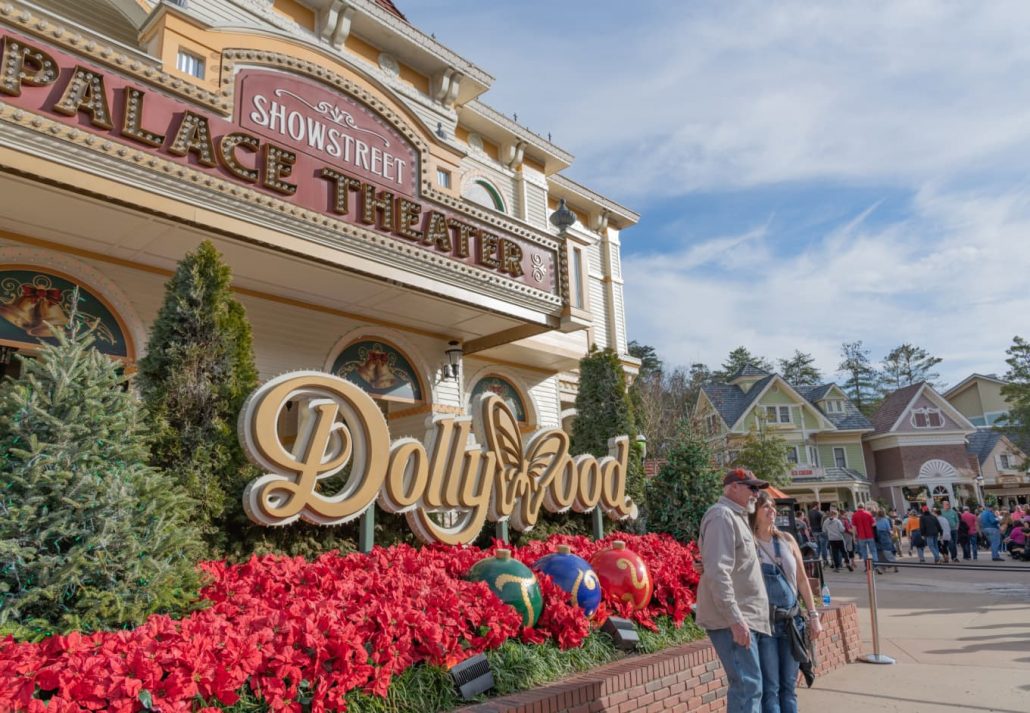 Dollywood, a famous theme park founded by Dolly Parton in Pigeon Forge (a 15-minute drive from Gatlinburg), becomes a gorgeous winter wonderland during the Christmas season, offering a wide range of festive activities and attractions that will fill your heart with holiday cheer.
One of the unique aspects of Dollywood's Smoky Mountain Christmas is that many of the park's rides and attractions remain open, allowing you to experience the thrill of roller coasters and other beautifully decorated amusements during this season.
Additionally, you'll be entertained by top-tier talent, from heartwarming musical performances to festive theatrical productions.
Address: 2700 Dollywood Parks Blvd, Pigeon Forge, TN 37863, United States
Gatlinburg Christmas Lights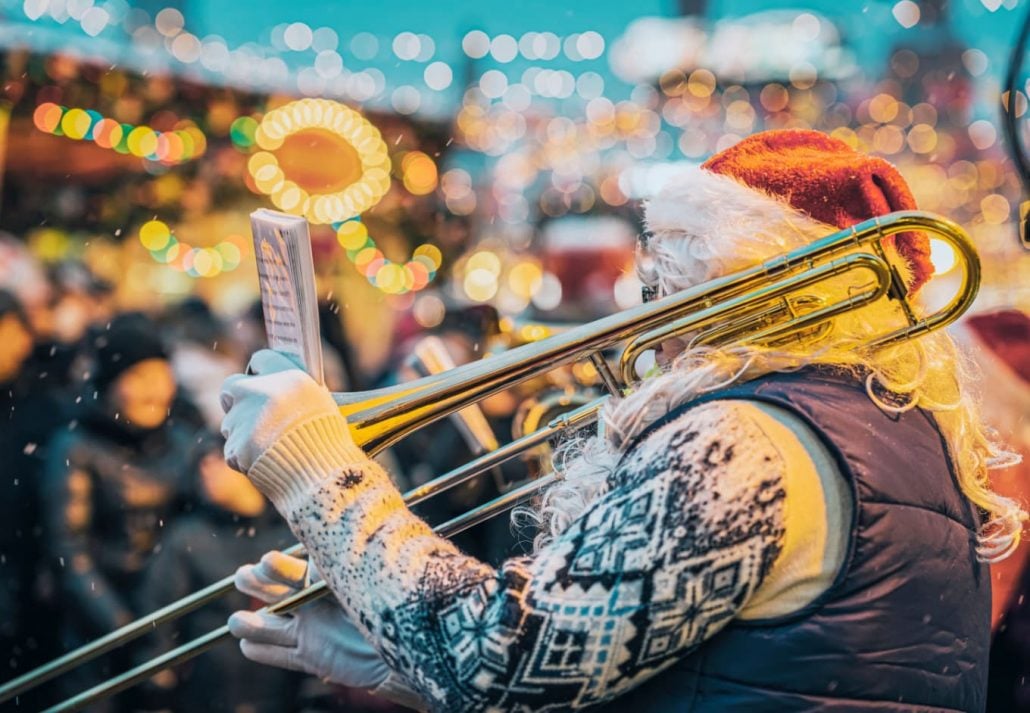 From classic white lights to vibrant reds and greens, Gatlinburg Christmas Lights is a visual feast that will leave you in awe.
Every building, tree, and lamppost comes alive with the warm, inviting glow of the holiday season.
One of the most captivating features is the Treetop SkyBridge. Only a short drive from the city it offers a sensational vantage point for enjoying the festive lights.
For an even more extravagant light show, be sure to visit the nearby Shadrack's Christmas Wonderland.
Recommended Read First-Timer's Guide To Glacier National Park, Montana
Gatlinburg SkyLift Park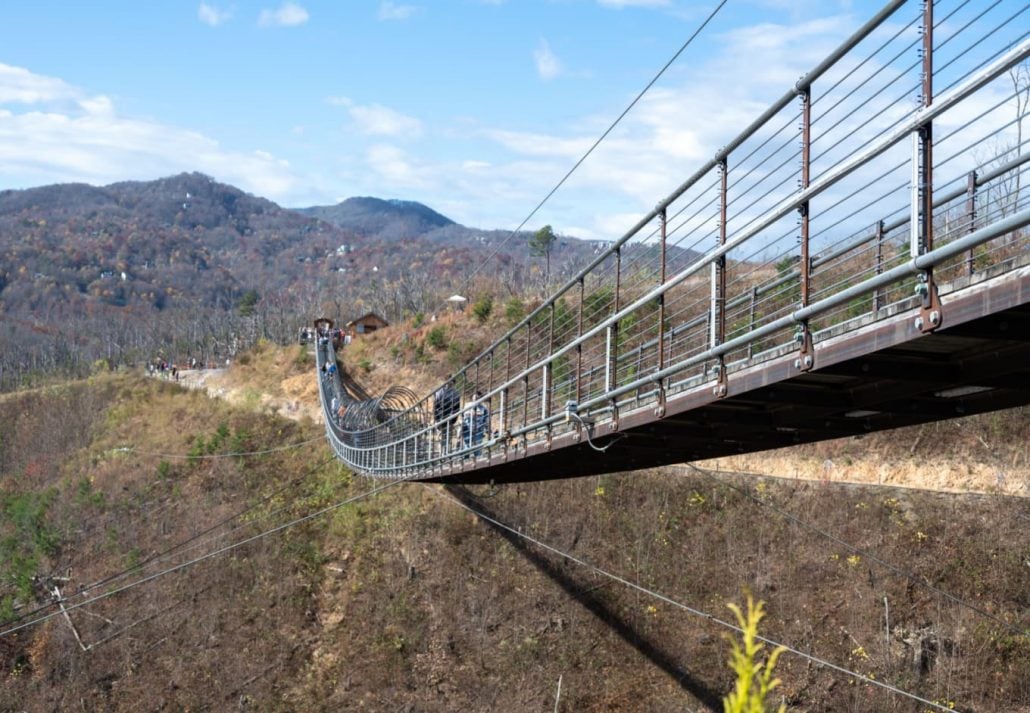 The Gatlinburg SkyPark takes you on a scenic journey up Crockett Mountain, providing spectacular views of the surrounding area, including the lovely downtown Gatlinburg.
During the winter months, the snow-capped peaks of the Great Smoky Mountains make the journey even more magical.
The park is also adorned with festive holiday decorations and features cheerful holiday music. Don't forget to bring your camera to capture the captivating moments!
Address: 765 Parkway, Gatlinburg, TN 37738, United States
Great Smoky Mountains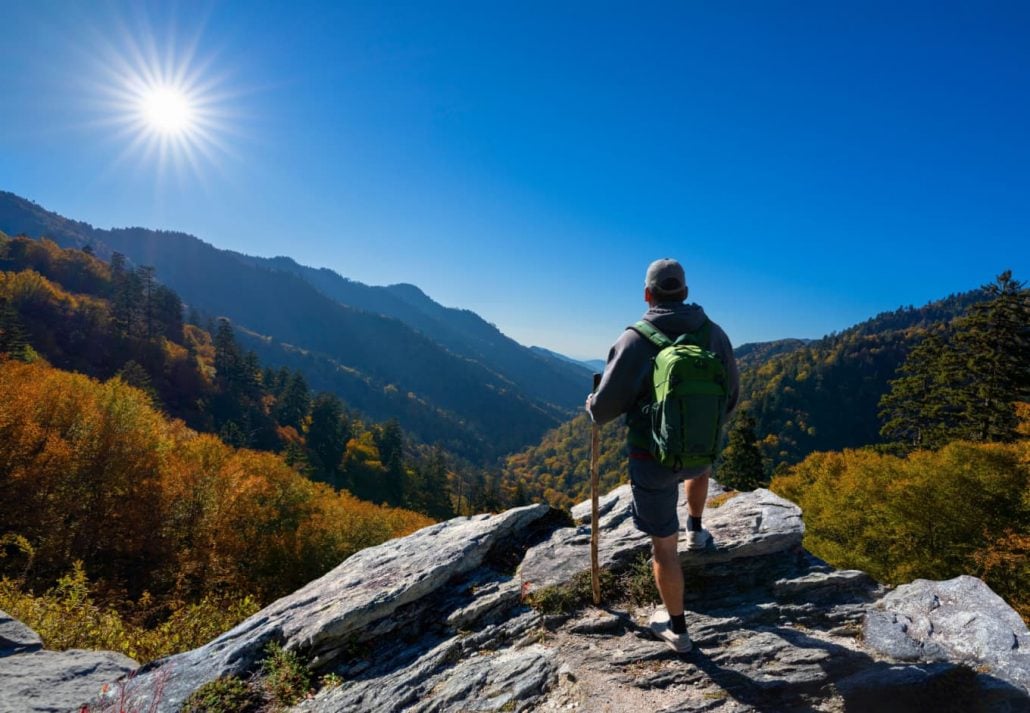 Did you know that Gatlinburg is a gateway to about 520,000-acre Great Smoky Mountains National Park?
Yes, that's right. It's the perfect opportunity to connect with nature, stay in one of the cozy hotels nearby, and enjoy a range of outdoor activities.
You can go fishing, hiking, biking, horseback riding, and rafting. Moreover, during Christmas, the park transforms into a stunning winter wonderland.
Snow-capped peaks, frost-covered trees, and frozen streams create an ideal setting for your holiday celebrations.
Plus, the Smoky Mountain Convention Center offers a variety of facilities and services to host conferences, events, and gatherings, if you're interested.
FAQ
Does Gatlinburg do anything for Christmas?
Gatlinburg is a fun place to visit for Christmas! There are 5 Christmas destinations in the area that will surely warm your heart:
Fantasy of Lights Christmas Parade;

Dollywood's Smoky Mountain Christmas;

Gatlinburg SkyLift Park;

Gatlinburg Christmas Lights;

Great Smoky Mountains.
Is Gatlinburg a good place to go for Christmas?
Yes, Gatlinburg is a wonderful place to visit for Christmas. Whether you're seeking a romantic retreat or a family adventure, Gatlinburg has something for everyone to make Christmas special.
Does it usually snow in Gatlinburg on Christmas?
The chances of snowfall on Christmas Day in Gatlinburg can vary from year to year. In the month of December, Gatlinburg typically sees around one inch of snowfall.
Browse. Book. Stay.
CuddlyNest provides all accommodations to all travelers at the best price. Find unlimited travel inspiration on our blog and social media channels:
Facebook, Instagram, Pinterest, and X.
See Also:
A Guide To 2023 Christmas In Boston
10 Most Beautiful Christmas Trees In New York
The 7 Best Ski Resorts In The US
A Guide To Christmas Village In Philadelphia
The Best Winter Vacations In The US
Exploring The Best Christmas Towns In The US
The Best Places To Travel In December — USA
A Guide To The 4 Best National Parks In Wyoming
The 8 Best Things To Do In Vermont
Best Halloween Cities To Visit In The USA